Get involved with the San Francisco Bay Joint Venture! Learn about ways you can help with habitat conservation projects in the Bay Area, join us at an upcoming event, or view some of our recent media releases.
Wetland Restoration is Working at Bay Point Regional Shoreline
In November 2020, Bay Point regional park reopened with new trails and enhanced habitat for native species that have been designed to withstand projected sea level rise. New picnic areas, restrooms, a drinking fountain, and a kayak launch site were also added. People need to connect outside in nature now more than ever. Check out this wetland restoration is working video we created with them in 2018. More information about the project can be found on the East Bay Regional Parks District website.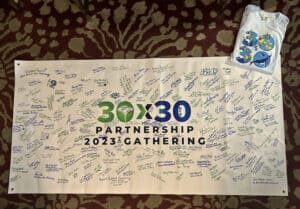 Recently codified as law, California's Pathway to 30×30 lays out the vision for conserving 30% of California's lands and waters by 2030. In October, conservationists from around California gathered in Riverside, CA at the 30×30 Partnership Gathering hosted by California Natural Resources Agency and the California Biodiversity Network.  Below our new Joint Venture Coordinator, Kelli
Read More »